Robert Allen Larson was born February 21, 1937 and raised in New Britain, Connecticut. A graduate of St. Anthony High School, in 1962 he received his BS degree from Fairfield University where he majored in Early Modern European history. He earned his MA degree in modern European history with a philosophy minor in 1965 from the University of Florida, and did graduate work at the School of the Art Institute in Chicago. Recipient of an NDEA Fellowship at Florida State University, he studied humanities and sculpture at the graduate level, receiving his Ph.D. in 1976.

Dr. Larson has been active in his field. He has taught humanities, philosophy, sculpture, and related subjects at the college level for 30 years and chaired the Humanities and Art Department. He was Artist-in-Residence at the Barclay Chicago, recipient of an Abbey Grant. His 1992 and 2000 transoceanic shows in Germany were lauded as "events of international harmony through friendship and art." Larson has given sculpture workshops, lectured, and moderated panels on humanities topics worldwide. His art has been purchased by museums, churches, universities, banks, corporations including Paramount Pictures, and by private collectors across the U.S., Europe, and in Asia. Larson sculpture were available through Louise Himelfarb Gallery in New York, Art Attacks in New Orleans, Florida's SOHO Gallery in Pensacola, and Seaside's Studio 210. His works are now sold exclusively through Shoal Sanctuary Nature Preserve and Sculpture Trails. Dr. Larson has had numerous one-man exhibits, judges art shows, and is a Resource Artist for the Florida Institute for Art Education.

A published poet, Larson was selected to attend the Aspen Writers Conference and has given readings of his work throughout the U.S. and in Germany. He is a leading authority on the art and life of Hiram Williams, having published articles, book reviews, and a monograph on that artist. Dr. Larson has also published essays on the relationships between art, science, technology, and philosophy. He has been a member of the National Art Education Association, served as an officer of the National Association of Humanities Education, and was President of Florida League of the Arts. Dr. Larson was elected to Phi Alpha Theta National History Honor Society and Lambda Iota Tau National Literary Honor Society. He received a grant from the Florida Endowment to moderate panel discussions on "Ethics in America." Active in the community, Dr. Larson served on the Bishop's Commission for Social Justice, Catholic Charities, Okaloosa Council for the Homeless, and Military Toxics Project. He founded the Gainesville Tutorial Program, a University of Florida service for minority students. He was a P.T.A. President, taught Sunday school, and was on the Board of Directors for the Playground YMCA. His studio-residence in Shalimar, Florida was blessed by a Cherokee chief and served as a sanctuary for 145 foster children in state protection.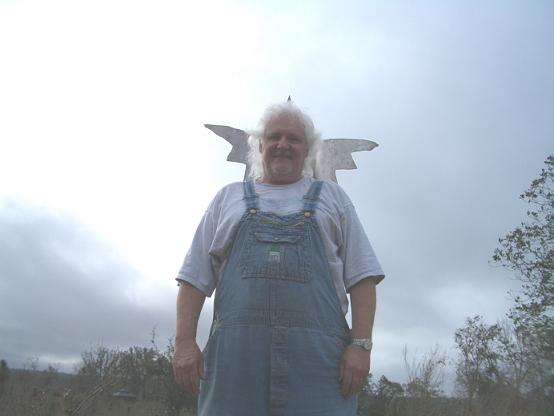 ARTIST'S PHILOSOPHY
The sculpture of Robert Allen Larson is his expression of the ideal through the medium of stone and metal. "If a search for formal order seems out of touch with the chaos of world events, and if this dream seems distant from the casual violence we have learned to accept," says Larson, "this just accentuates how far we are this side of Paradise." Some of his sculptures are like road signs, pointing toward an ideal. Others are like objects reflected in a rear-view mirror, historic markers symbolizing important events along the way.
Larson considers a piece successful when it has power to move the viewer. His sculptures burst with energy, with a life that comes from within. Many are beautiful, some humorous, and others mysterious. All are positive.
Believing that we live in a tactually deprived era, Larson provides sculpture that invites our touch. He welcomes the viewer to handle the pieces and is gratified when the sculptures entice tactile appreciation. Some works are hand-held or "lap pieces." Other, larger sculptures rotate. Some are even to be climbed. "Texture is essential to sculpture, and to life," says Larson. This is one reason he carves, files, and polishes with hand tools. Working by hand gives the material more time to communicate with him.
| | |
| --- | --- |
| Larson's favorite sculptors are Michelangelo, Moore, and the anonymous Scandinavian stone carvers who have left their marks for us to ponder. As intellectual mentors he claims the Jesuits, Chardin, Fox, Maritain, Girard, Kepes, Kant, Levi-Strauss, Jung, Pascal, and Plato. The poets Antoninus, Whitman, Jeffers, and Shakespeare also influenced his world view. Larson finds Einstein, Hawking, and Kaku refreshing wellsprings of ideas in physics. Pure science and pure religion both, when of the non-dogmatic genre, are complementary and inspiring. Spiritually, Larson sees life from an ecumenical, theonomical perspective, responding to the interconnectedness of all things. Larson's sculpture is inspired by nature. Rocks that wind or water have shaped to look curiously familiar are visual puns that especially intrigue him. Universals that recur throughout Earth and the cosmos, these forms echo in the whirling atoms of our brains, in the rings of trees, the spinning of galaxies, everywhere we look. They are there, too, inside a piece of stone. A member of the E-Chota Cherokee Tribe, Native American symbols and values are evident in his art. Whether sculptures spring from human or other sources, they are all anthropomorphic expressions of ourselves, says Larson. Because we are images of the Creator, the best of us is ultimately an expression of the Spirit, or in essence, intimations of the Immortal within us all. | |